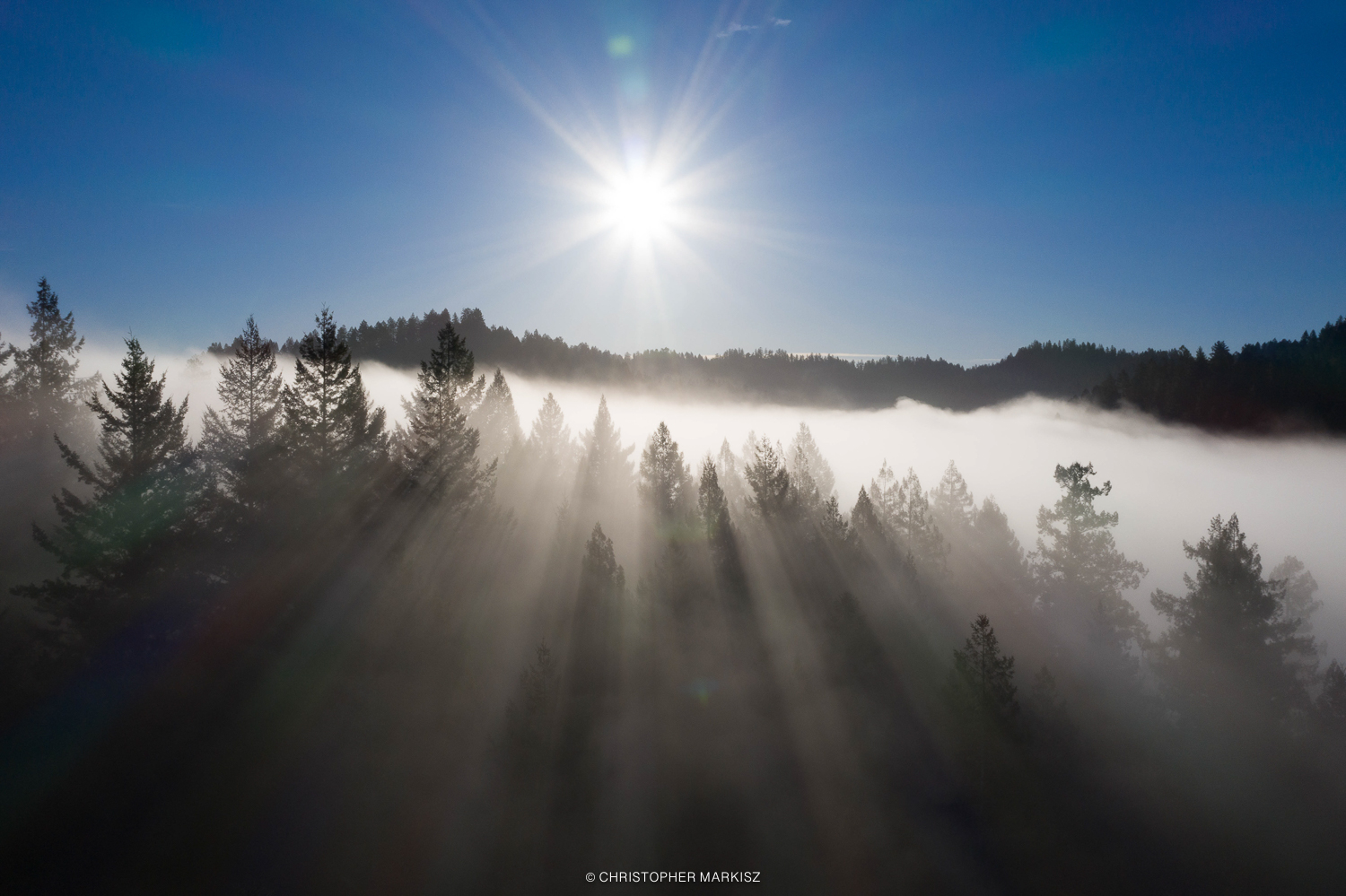 Under The Waves
Waves of fog roll over a neighborhood in Mill Valley, California, as seen from the top of Mount Tamalpais.
Winter in Mill Valley
A bed of fog flows westward over Mount Tamalpais on a January morning.

Although summertime is known to be "fog season" in the San Francisco Bay Area, this image was made in the middle of winter. Tule fog forms inland during the colder, wetter months. Occasionally when conditions align it pushes west, making its way over parts of Mount Tamalpais—mimicking the behavior of the coastal fog commonly associated with the mountain.

It made for this unique composition, as fog that's typically photographed from this point of view is flowing in the opposite direction, interacting with different parts of the landscape.
Fog At Night
This picturesque wave of fog was both moonlit and street-lit as it poured over a hill in Mill Valley, California. Making this image involved a steep hike up Mount Tamalpais in the dark, and a long shutter speed to capture the movement of the fog.
Peaches and Cream
Marine layer fog pushes over the west side of Mount Tamalpais on an August evening.
The Gentleness of You
Watercolored fog gently sweeps over Mount Tamalpais on a perfect summer morning.
Citrus Glaze
Fog pushes over Mount Tamalpais just before sunset on a summer evening.
Heavenlike
A serene scene atop Marin County's Mount Tamalpais.
The Moon Sets in the West
A seldom had examination 2,000 ft. fog under moonlight.
Vanilla Blue
A bed of fog in Mill Valley glowing in golden hour light.
Westward Winds
Valley fog is swept over the Marin Headlands by westward winter winds.
While You Were Sleeping
Fog fingerlings flowing over Marin County, California under a moonlit sky.
Magic Mountain
A pre-dawn scene in Mill Valley, CA.
Anywhere
Waves of fog weave an abstract pattern as they roll over the top of Mount Tamalpais in Marin County, California.
Silversurf
A sweeping bed of fog glides over Mill Valley, CA.
Light Waves
A sun kissed blanket of fog flows over a hill on Mount Tamalpais in Marin County, California. Getting this shot involved a steep, moonlit hike several hours before daybreak. I used a long shutter speed and a 6-stop neutral density filter to capture the movement of the fog. If you look closely, San Francisco's Sutro Tower is visible on the horizon.
Radio Waves
Sutro Tower overlooks a layer of ground fog, blowing towards the ocean on a cool winter morning.
Jettison
Coastal fog like this provides natural air conditioning during the summer months for California's San Francisco Bay Area.
Ocean Air
Waves of fog at twilight create a soothing pattern in this long exposure photograph.
Enchantment
Seasonal winds carry coastal fog inland towards central Marin County, CA.
Capturing Time
Fog fingerlings form a streamline over a hill in Mill Valley, CA.
Spotlit
A patch of green grass is lit by rays of sunlight beaming through fog as it pours over the hills of Mount Tamalpais.
Strawberry Hill
Morning fog over Northern California farmland glowing in pink light.
Happy Cows
A northern California farm on an early autumn morning.
Lullaby
A pillow of West Marin fog in soft morning light.
Pastures
Lush green pastures overlook a bed of fog in the hills of Petaluma, California.
Tule Fog
Tule (valley) fog is illuminated by early morning light near the Marin County and Sonoma County line.
Billows
Morning fog in Sonoma County, California billows in the distance under a colorful sunrise.
A Fertile Ground
Tule fog in Northern California farm land.
Horizon Light
Storm clouds were briefly underlit on this winter morning in Petaluma, California, as the sun passed over the horizon on its way above the cloud line.
Softlight
The sun descends past a wildfire smoke layer beyond a blanket of illuminated fog on Mount Tamalpais in Marin County, California.
Fog Light
Ground fog on Mount Tamalpais glowing in evening light as it rises just after a midwinter rainstorm.
Over The Hill
A stream of fog crosses over West Ridgecrest Boulevard on Mount Tamalpais.
Alive
High clouds glowing during a dramatic sunrise over a vast body of fog moving past Mount Tamalpais.
Only This Moment
Morning fog under a colorful sky in Marin County, California.
Happen
Patchy morning fog floating through the slopes of Mount Tamalpais.
Fierce
Horizon light graces some ground fog moving swiftly over the east side of Mount Tamalpais.
Hidden in the Valley
Morning fog collects in a small valley on a winter morning in the North Bay Area.
Blue Lagoon
A fluffy bed of ocean fog nearly 2,000 feet high begins to overtake the peaks of Mount Tamalpais.
Closing Colors
Fog overtaking the tallest trees on the west side of Mount Tamapais just before closing time.
Strawberry Fields
Fog passes through a patch of Douglas Fir atop Mount Tamalpais on a spring afternoon.
Streamline
Fog, bathed in warm light, coasts through treetops, photographed with a telephoto lens from Mount Tamalpais.
Winterare
Occasionally, winter morning fog—like that pictured here— amasses to a point where it cannot evaporate like it normally does by mid-morning, thus providing evening photo opportunities for landscape photographers like myself. On this rare winter day I photographed the same body of ground fog twice—almost 10 hours apart—in nearly the same location.
Darklight
Side-lit fog pushes over Mount Tamalpais on a warm August day.
Firesky
Smoke from nearby forest fires chokes the air while creating interesting colors and textures in the sky above a layer of coastal fog moving inland over West Marin County.
Between The Lines
Coastal fog interacts with the peaks and valleys of Mount Tamalpais in Marin County, CA.
Crossroads
Late afternoon fog approaches West Ridgecrest Boulevard on Mount Tamalpais.
Life In The Clouds
A house with a view, some might say. Who knows, or cares what's underneath all of that fog.
Rolling West County
The rolling hills of Mount Tamalpais are covered in vibrant green grass for a brief period each spring.
Behemoth
A large pyramid shaped hill towers above a sea of fog—and everything in sight—during peak photosynthesis in Northern California.
A River of Life
A river of ground fog crawls through a neon green valley in Northern California on a cold late winter morning.
House On The Hill
A foggy February morning on a Northern California farm. This is one of my favorite places to enjoy quiet winter mornings.
Steam Clean
Ground fog evaporating after a winter rainstorm in Sonoma County, CA.
Pillowhead
Winter fog blankets a valley in California's Wine Country.
Northwest
A telephoto shot of fog pouring through the treetops of Mount Tamalpais.
Starlight
A glimpse of Marin County fog under the stars.
Mill Valley Fog
Fog rolls over a hill in Mill Valley, CA.
Adventures In Your Own Backyard
Valley fog washes over a road above Mill Valley, CA, on a January morning.
Is This What Heaven Looks Like?
Life above the clouds over Marin County.
Bluelight
A very picturesque showing of fog under both moonlight and starlight on a gorgeous summer night.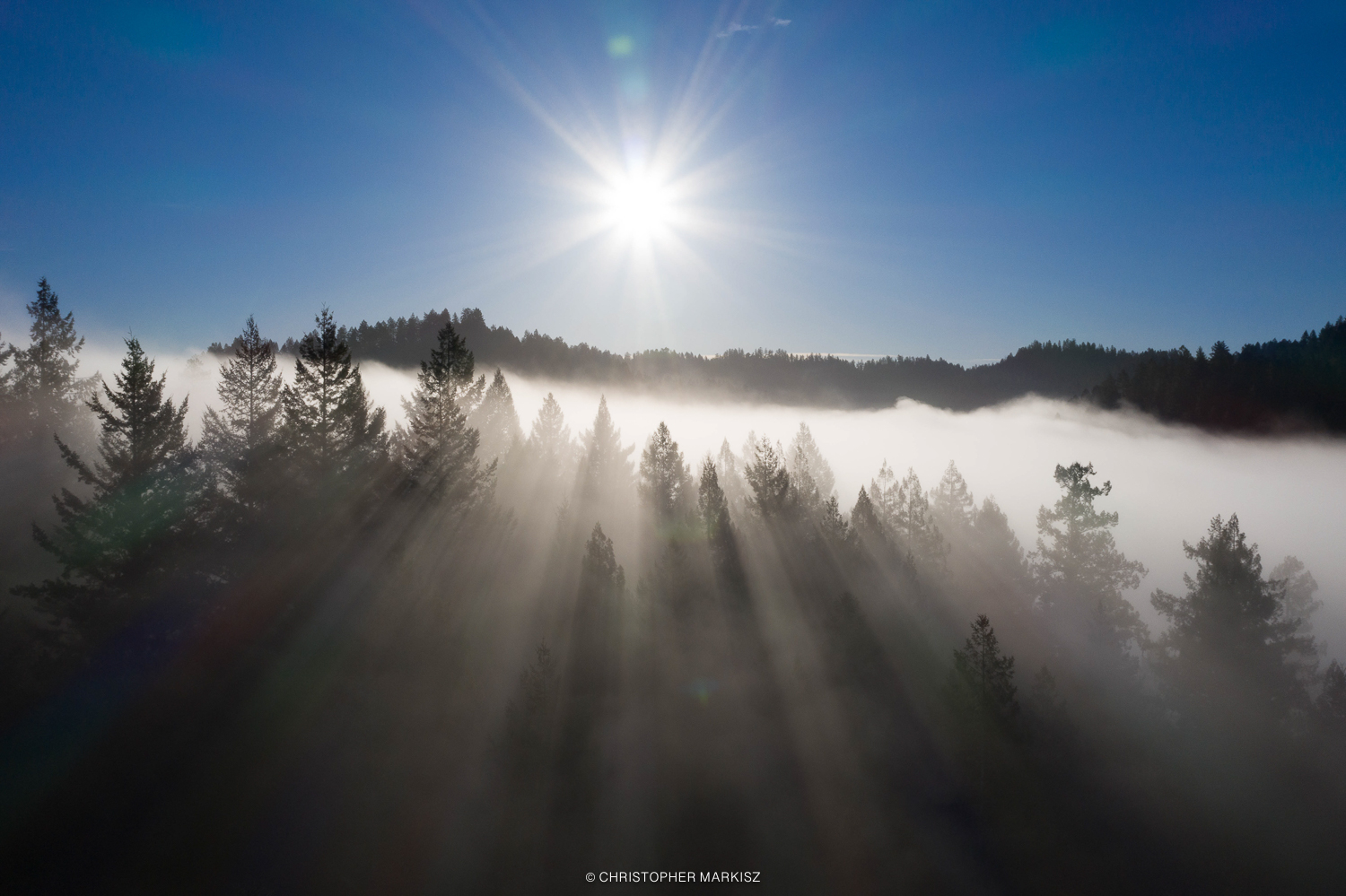 Over The Treeline
A drone shot from a flight through the tree tops of northern Sonoma County, California.
Marin County Blues
Mid-afternoon fog cruises between the tree lines of Mount Tamalpais.
Everlast
Dense fog blankets the hills of West Marin County, California.